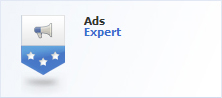 Lerneinheiten
Facebook Advertising Options
Ad Campaign Management Basics
---
Facebook Ads
Facebook Ads help you reach more people with your message. Ads can be targeted to help you reach specific audiences, based on their Likes, interests, age, location and gender. All of the available targeting options are based on authentic information that people decide to share about themselves, giving you the ability to go way beyond basic demographic targeting.
When people like or interact with your brand on Facebook, their name can be featured in the ads that appear to their friends. Just like a recommendation in person, a friend recommending a brand on Facebook is powerful. Research shows that people who see a friend's name in a Facebook ad are significantly more likely to remember the ad and twice as likely to remember the brand. Sponsored Stories allow brands to increase the visibility of powerful News Feed stories by displaying them in the right-hand column of Facebook.
When people interact with brands on Facebook, the stories they generate may or may not be seen by their friends due to the dynamic nature of News Feed. Sponsored Stories broaden your reach by allowing people to discover your brand from their friends. Inline liking promotes further distribution and virality. And like Facebook Ads, Sponsored Stories are seamlessly integrated into the Facebook experience.
---